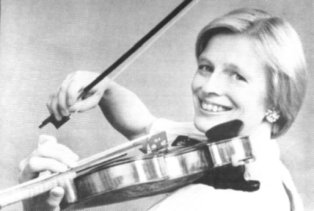 Virtuoso violinist Helen Armstrong has triumphed as an international recitalist, soloist and chamber musician. After her New York debut at Lincoln Center in 1976, one New York critic called her "a total virtuoso, a true aristocrat of the violin." Following this success, the brilliant American violinist was engaged as soloist by the Boston Pops and the Indianapolis Symphony Orchestra, among others, and by the Martha Graham Dance Company. She has been a featured soloist with Skitch Henderson and toured North America, Europe and Asia as a recitalist. Meyer Kupferman and Pulitzer Prize winner, Richard Wernick, have written works specifically for Ms. Armstrong in recognition of her artistry and commitment to contemporary music.

Ms. Armstrong earned her degrees from The Juilliard School where she studied with the renowned teachers, Ivan Galamian and Dorothy DeLay. Among her many awards are prizes from the Society of American Musicians, the National Federation of Music Clubs, Musicians Club of New York, Mu Phi Epsilon. "Outstanding Artist of Illinois" and the Tibor Varga International violin competition in Switzerland. Ms. Armstrong has recorded on the Musical Heritage and CRS labels.

She has been highly acclaimed as a chamber musician as well. As the founder and artistic director of Armstrong Chamber Concerts Inc., Ms. Armstrong organizes and performs in series of concerts in Connecticut.

Ms. Armstrong is listed in Outstanding Young Women of America, Who's Who in the East, Who's who in American Women and Who's Who in Entertainment. Ms. Armstrong violin is a J.B. Guadagnini dated 1760.


"A musician with something to say... powerful...compelling performance."
-Daily Telegraph, London
"A Real musical treat... beautiful warmth of tone."
-The Royal Gazette, Bermuda
"Helen Armstrong impresses in violin recital... lively sympathy for 20th century music, especially absorbing... a splendidly taut and convincing reading of Schoenberg's Phantasy."
-The New York Times
"Helen Armstrong, the American violinist, was a great success. She demonstrated indisputable temperament... impeccable execution."
-La Notte, Milan
"A superb violinist with impeccable technique, infallible sureness and a perfect aptitude for adapting to the diverse character of the works interpreted."
-Le soir, Brussels
"She fascinated the public with dazzling technique, passionate style... impetuous lyrical elan... a magician of the bow."
-Corriere Dell' Adda, Bologna